Daytrip Palma - Valldemossa Manor of the XVI century Featured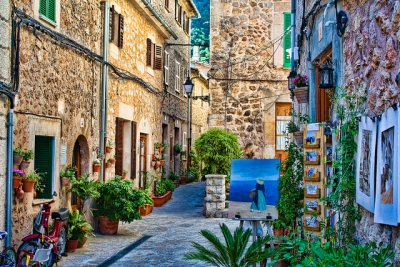 A fascinating historical and entertaining tour of the south of Mallorca
Visit the mansion of the XVII century - La Granja.
The history of the mansion has its roots in the time of King Jaime I, the Arabs conquered Mallorca in 1229th

This historic mansion for centuries served as a local residence of the counts and was also home to the monks -
the Cistercians. The property is located in a mountainous area near Palma.
Visitors can enjoy the beauty of these places, take a walk through the woods to the waterfalls,
observe the work of artisans to taste the local wines and dishes.
The next destination is Paris - the capital of the Balearic Islands. acquaintance
with the city begins with a visit to the magnificent Cathedral, arriving the first guests,
to the island by sea or by air encouraged. Stoschyaschy practically on the beach St. Mary's Cathedral,
is a landmark of the city. City Valldemossa - After the cathedral, the old town of Palma and the promenade visit,
we will go to one of the most beautiful and bohemian cities of the island. This small town in the green hills of the Tramuntana Mountains,
is still a popular place for painters and artists.
The main attraction of the city - Charterhouse, which as a refuge for the Polish composer Frederic Chopin
and French writer George Sand served. After visiting the monastery and walk around the city,
from Cape Sa Foradada, where you can make beautiful pictures with views of the sea.

It is a personal tour, accompanied by excellent guide and driver.
Tour duration - 8 hours. The price includes the services of a guide and a driver, the cost of petrol and parking.

Entrance fees to museums are not included.
Leave a comment